Picture of the week– Vickers hanging from the back door.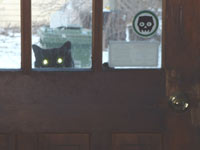 Yesterday was my first day off from work in weeks. I had big plans, but the day turned out to be surprisingly unproductive.
"That's the way it goes," said Geoffrey.
I did manage to work on a couple of paintings, however. I put one of them up on my wall so I could step back and have a look at it.
I turned my back for a second and heard, "plop."
Turned back and the wet painting had fallen off the wall and landed face-down on my bed. There is a painting on my bedsheet now.
Well, I'm sure there are ladies in the North End who might find that kind of seductive. "Heh heh heh! My kind of ladies."
I'm going to run some of my art through the scanner and post it here. Have to make sure it's dry first.
Here are a couple shots from the Fire Point Gallery opening on Sunday night, along with a photo of the steak from Hell.


Geoffrey, Annette and I are going to take formal portraits of ourselves in front of our work as soon as there's a time when we're all home together.
This Sunday at 8PM will be the opening reception for Jon Hut's show. I haven't seen any of it yet but I think it's going to be about demons. That's at the Fire Point Gallery, at Bloomfield House.
I felt really good about the grand opening. The course I'd been teaching finished up that night, so I'd gotten into the gin a little bit. I love a good soiree.
It looks like the gallery is going to be a success. We've had people phoning us up to ask about doing shows, and we're already booked to the end of June.
Some established artists in town have a funny reaction when they hear about it though. "Oh ha ha ha, a domestic gallery, isn't that cute, just like the thing those people were doing in their bathroom." I'm starting to get annoyed.
I was telling one guy at the Marquee and he said that he hated those little galleries, "like the Bathroom Gallery and the Wallet Gallery."
"Fuck you," I said. "Art belongs to everyone."
He seemed taken aback by my strong reaction and mumbled something about "Yeah, I guess it can be kind of cool."
Then I had a telephone conversation with an art critic who seemed a little too condescending for my tastes. It put me in a bad mood.
I stomped downstairs and said, "The Anna Leonowens is going down!"
"What are you talking about," said Geoffrey.
"The Eye Level Gallery… the AGNS… we're taking them all out. That's what I'm talking about." I started doing kung-fu moves in the kitchen. "Here comes Fire Point Gallery. Haiii-YAH!"
I danced around the kitchen and pretended to beat up Geoffrey. "You can't just go around and beat up all the other art galleries," he said.
"Why not?" I said. "We'll call it a 'performance.' We'll go in and beat them up and steal all their shit. It'll be legendary." I tried drop-kicking the cat, but he ran away under the counter.
"I want to duel all the other curators. Paintbrushes at twenty paces!"
I am passionate about art but pretentious people piss me off.
P.S. Art is fucking easy.