Hurricane Juan blew up the city of Halifax the night of Sunday, Sept. 28. I was awakened that morning by a woman letting herself into my bedroom.
So did she slip under the covers to coax me into consciousness with subtle pleasures of hands and mouth?
No. It was Claudette, and she proceeded to jump up and down on my bed.
"Wake up! Wake up! Wake up!"
"Nmmmmrrr," I said. "I was having a really nice dream just now."
"Come on, Philip, it's time to get up," she said. Boing, boing, boing.
I yawned and stretched as Claudette bounced around me. "Stoppppp thaaaat," I said.
Claudette bounced off my bed and out my bedroom door. I heard her voice heading down the stairs. "Gotta hit the road… storm's coming…"
From downstairs I heard my roommate chime in with Claudette. "Philip! You have to get up now… Philip?"
"Shut up! I'm not getting out of bed." I curled up into a ball and complained, "I have a boner."
During our road trip conversation, I shared with her some of the hot action details that I can't post about [small town, sorry folks], and she filled me in on some news as well [summary: the boyfriends of Halifax are mad at me].
As soon as we hit the New Brunswick border, the clouds opened up and the sun began to shine.
I missed the hurricane, but I watched it on TV. I phoned my roommates from Saint John and narrated what was happening all around them in the howling darkness.
…Next time we take a road trip, maybe I'll have a car of my own. I just passed the road test for my driver's license.
My friend Carolyn let me use her car. We spent half-an-hour driving around the parking lot, so I could practise backing up and parallel parking.
When I went into the Access Centre with Carolyn's keys in my hand, the woman at the counter asked me to pull the car into one of the designated parking spaces in front. I had just finished backing the Jetta into the space when a big imposing black man came out of the office with a clipboard in his hand.
He leaned over and looked in the driver's side window. "Are you aware that it is against the law for you to be moving this vehicle if you are not accompanied by a licensed driver?" he said.
I had visions of failing my test before it had even started. "Bluh, muh guhruh," I stammered.
"Ha ha ha," he said. "Had you going there, didn't I. Headlights please… Check."
He checked out the car and then we drove around the block a few times. We just drove around aimlessly and shot the shit about the hurricane.
Then he said, "You're not a bad driver at all. You're not going to kill anybody." We returned to the Access Centre, and that was that. I didn't even have to parallel park. All right!
I got to put my driving skills to work last Thursday when A/V played Moncton with the Epworth Band. Around 3AM on the drive home, I was passing a transport truck when a tire blew out. The whole vehicle shook like we'd hit a giant rumble strip.
I kept a cool head and pulled over. Then we got to change the tire –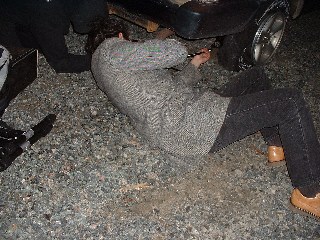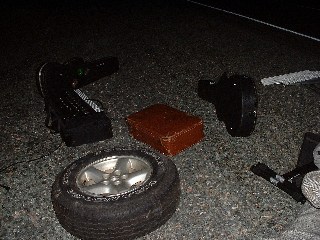 Mark Bragg
had almost pulled the spare tire out of the trunk to make more room for gear. If that had happened, we'd probably still be out by the side of the highway.