~ On Agricola Street this evening, I saw a wreath of flowers laid at the foot of a street sign as a memorial. But when I got closer it turned out to be just a discarded old umbrella.
~ Alas, my poor webcam, we were just starting to become friends. I wanted to turn my life into a TV show. I wanted to get an Airport card and go to Bach's Cafe and patch into their wireless Internet and film myself eating Korean mandoo and beam it out to the entire world. Sad to say, this isn't going to happen anytime soon.
I wanted to have sex in front of my webcam. Nahh, that probably wouldn't happen. It would be tough to find someone willing to do it with me. But maybe I could have sex with the webcam pointed at the shadows on my wall. Yeah, that could totally happen! Hottttt.
Anyway. One night last week I had the webcam set up pointing at my bed, for some reason that failed to materialize. And so I thought I might as well roll it anyway while I slept (alone). Bored late-night websurfers could tune in to watch me and say, "Awww he looks so peaceful."
Or in the worst case scenario, "Oh my god CALL 911 HE'S NOT BREATHING."
So: middle of the night in my bedroom. Pitch dark. I decide to turn on the display on my iBook, to check the camera angle. Oh, vanity! Oh, the woe of mankind.
I located my computer on the floor by feel and went to pull it towards me. And I heard: Thump.
Well. Guess I should've bought longer than a six-foot Firewire cable!
I turned on a lamp and discovered that the whole works of 'er, tripod, camera and all had tipped right over. "NO VIDEO" said the webcam program over a blue screen. The camera had landed right on the Firewire jack, fucking up the cable and the jack both.
Here's the sad, final shot my camera sent out as it completed its hopeless downward arc into malfunction.
So now my Mini-DV cam is in the shop. No homemade Xmas porn for Philip! Repair's probably going to cost me an arm and a leg and my left nut and my noodle too.
Just in case you feel that all these sleazy exhibitionist porn references should be reserved for that other site, I'd like to mention that my webcam also provided some exuberant, family-friendly episodes, like this: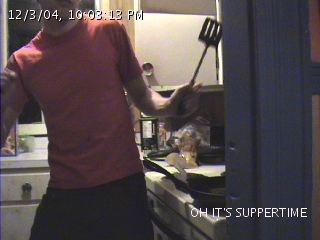 Or this heartwarming image: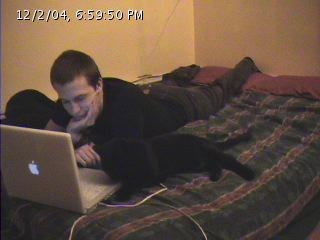 Anyway, the Swordfight Channel will return in 2005, god damn it.
~ My friend Dave said he's never gone into Bach's because he's afraid of standing at the counter and not knowing what to order. "And then I ask myself, what would a man do? What would a Korean mandoo?"
One of my photos is on the wall at Bach's Cafe. Check it out.
I'm outta here, touch me I'm sick!