I'm in Saint John and I'm just about to get in the car and drive to Moncton to pick up a couple friends whom I've never met and then we're heading straight to Montreal.
Tuesday night on a whim I drove to Fredericton to see Contrived. Glad I did, I miss the Halifax crew. On the way there I saw two deer and two moose. The moose were some ugly. Unlike the members of Contrived, who grow more handsome with every show: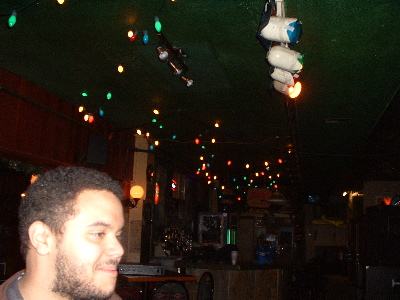 The boys have rented a sweet ride for this tour. After the show I got to take a tour of the rental van. You can tell Bigelow is loving it as he settles back to watch a special DVD presentation of Garfield The Movie:
Saturday night in Montreal brace yourself for the throwdown, I'm performing as A/V at a some kind of art/fashion party at Faith & Tobin's new space. 3676 Saint Laurent. Between de Pins & Prince Arthur. The event runs from 7 to 11 and I'll probably go on around 9pm. After that I've heard rumours of "Hard Liquor and Porn" party and I suppose I'll see where the night takes me.
I left Chipman late last night. I was roaring down Route 123 and I came around a curve just as a mother duck was leading a row of half-a-dozen ducklings across the highway. She seemed a little confused at my rapid approach, hesitated and started to turn back. Fortunately Mama Duck and her brood were in the other lane, otherwise I would've been looking at six little orphans, all in a row.
My departure was delayed because a bat flew into my house. Vickers the cat was practically jumping up and down with excitement as he chased the bat around the house. A bat can cover a lot of air with its crazy erratic flight plan.
Have you ever tried to herd a bat? It's not easy. C'mon bat… I got places to go. Finally I managed to corral it in the sunporch and shut the door. Well, I didn't actually see it fly in there, but I went in and Vickers was standing in a corner of the porch, staring intently at a space up in the rafters. Bat senses tingling.
I carried the kitty out of the porch and opened the front door. There's a lot of wood and junk up in the rafters so it's hard to see what's going on. I went around poking and prodding up there with a stick. No sign of the bat although it might have flown outside while my back was turned.
Maybe it's still in the house somewhere. Hey bat… eat some bugs while I'm gone, will ya.