I just dropped into the welding shop. Here is a picture of the underside of my car: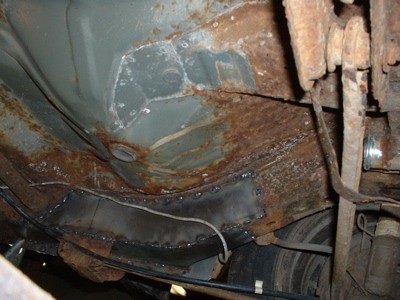 All that Iron Man shit along the bottom is the part that's being rebuilt.
Markblack and I ate lunch at Bach's Cafe. It was delicious. Blizzard coming tonight. I was hoping my car would be done so I could hit the road before the storm. Looks like I might have to stay another night in Halifax. Gee.
I walked into the garage and went right in under the car and started taking pictures without saying anything. I wanted to make the mechanic nervous. He has a limp handshake and doesn't make eye contact so he comes across as a bit shifty. I'm sure he knows his shit but I'm worried that his favourite way of dealing with customers is to bend them over and aim for penetration.
He started saying, "Yeah I don't know, might not be done til tomorrow morning."
Little did he know, I had been carrying around this mouthful of soy sauce and as soon as he started talking I spat it all over him. Kikkoman soy sauce all dripping down his face.
Then I said "Hurry up and fix my car… fucker."
The mechanic took off his welding glasses and wiped them on his filthy coveralls and stared at me.