It's some kind of business to cross a continent. Takes you all friggin' day.
They weren't going to let me on the plane. I didn't have the right papers. The agents looked away, froze me out. "We can't let you on the plane without proper proof of citizenship."
A guy at the next counter took my case unto himself and phoned and faxed and expedited. Within an hour I got a birth certificate faxed from Vital Statistics in New Brunswick. Good thing I showed up nice and early at the airport.
In Boston the passport person at customs looked at the fax upside-down and right side up and said, "They probably shouldn't have let you on the plane with this." I'd already had a full morning of ups and downs. Then she smiled at me and put her finger over her lips–shhh–and hit me with a rubber stamp. Now I want to kiss a cute blonde in honour of the Boston customs agent. Thank you for not doing your job properly. Thank you for keeping America unsafe!
At any moment I half-expected a bunch of troopers to come after me with handcuffs and dogs. But after I got on the plane in Boston no one troubled me again. I just hope that fax gets me back into Canada.
Stopover. Fast motion moving sidewalks. Along the wall there's a montage of large photographs taken from the area around Salt Lake City, which is in Utah, which is Zion. A zippy tour of molten lava mountains, alien landscape descent from sun into darkness. The walls pass in a blur. "Ray Of Light… The Delicate Arch… The Frogs Of Moab…" Whoa, wait… what? Bring that shit back.
I woke up this morning at the House Of Schlomo in San Francisco, California. Vloggercon 2006.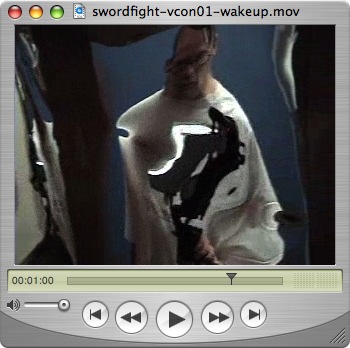 swordfight-vcon01-wakeup.mov [6MB QuickTime]