Sunday afternoon I went down to the Chicken And Goat Festival, the annual African festival held down on Gottingen Street. I'd been asked by a local reggae artist to make him a music video so he could send it back to Africa. Apparently, he's already a star back in Ivory Coast.
The shoot didn't go too well though, because the reggae star wound up getting arrested. I guess he just became a little over-excited.
"I was getting my vibe!" he shouted as the cops hauled him away. "This is African music!"
After that I felt a little self-conscious with my camera and tripod, so in spite of all the food, music and good times, I didn't stick around long at the Chicken And Goat.
Last night I looked at some of the footage I'd shot before all the chaos broke out. There's the reggae star, dancing around in his red track suit with the audience in the background. ("There!" he'd shouted when he saw me. "Put the camera right there!")
In the third or fourth row of the audience I spotted a cute lady from around the North End. She's smiling and she has her hand over her eyes to block out the sun. She's watching the reggae star as he hops around in front of the stage. It looks like she's watching me videotape the reggae star. I really should find out her name.
I feel a bit like a stalker, albeit purely by chance.
Sunday was such a long crazy day of adventure and action. At one point I remember biking up Agricola Street on wobbly legs and thinking, "My god… life is interesting." And that was before I even arrived home to find two girls from the Planet Cute had crashlanded on my back deck.
Tuesday, on the other hand, was not interesting. I spent the day in my basement trying to paint a portrait of a lady I know. I was working from a photograph, and I was nearly crippled by the thought that I wasn't doing justice to her legendary beauty. The eyes… I just couldn't get the eyes right.
I wound up smearing black paint over the entire canvas and hiding it in a corner of the basement. Then I slumped in despair with my head in my multicoloured hands.
I don't know why I seem to have traded a perfectly good hobby–writing music–for one that I have no skills at. Perhaps I have a subconscious urge to teach myself a lesson in failure.
Self-portraits are easier because I don't have to give a damn about making myself look a certain way.
A few months ago I decided to redesign swordfight.org to put more emphasis on the visuals. But then I somehow lost the special cable that connects my digital camera with the computer. It quickly dawned on me that, without this cable, the digital camera is just a useless hunk of glass and plastic. Replacing the cable has proven difficult; I've had one on order from Carsand for weeks.
If you have a spare USB cable for a Fuji FinePix 2650 kicking around please let me know.
Our roommate Annette is taking a job in Ontario, so she'll be leaving us at the end of July. Geoffrey and I will miss our lovely housemate. If you're looking for a place to live and you think you are nearly equal to Annette in fabulousness, please get in touch.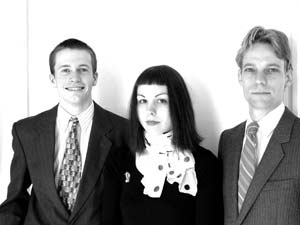 l to r: philip, annette, geoffrey.
Rent is $265/month plus utilities. Includes washer, dryer, art gallery, performance space. Reasonably tidy, female non-smoker preferred. We have one cat, which is enough.